2018.05.02. 10:17, zoejones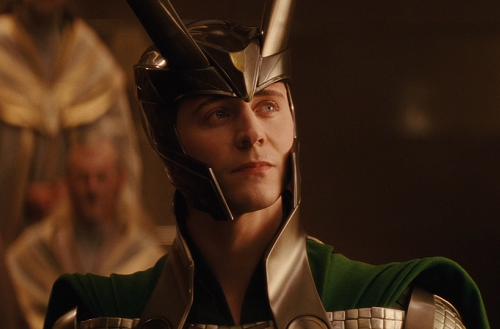 I was crying in my room.
The tears were running down my cheeks like fast rivers, but it was my heart that was burning like hell. Still I couldn't hate Loki. I loved him with all my heart, I loved him all the same and I knew that it would never change. He stole my heart and he would keep it forever no matter how he was unaware of this fact, no matter how much he wouldn't care about me. He was the master of lies, still this time he didn't tell a lie. He didn't bother about being nice or polite to me, to save me from being ridiculed by a big company of people - he was honest and he didn't care about the pain and damage he could cause to me.
I was curling on my bed, still sobbing, hugging myself, wrapped in self-pity when I felt something cold sliding up my legs. It was like an icy hand stroking my skin softly. I knew something was happening somewhere in the castle and it meant something bad. Maybe Loki was in danger! He was the God of Mischief but that is why he could put himself in so many dangerous situations.
I didn't hesitate because I wanted to know what had happened and what was going on. Probably he didn't need my help, he never needed the help of others (and he wouldn't get any, to be honest). I jumped out of my bed and started to run back to the dining hall.
The dinner didn't seem to be finished - it was simply interrupted. By the arrival of some unwanted guests.
Everyone was sitting on their seats completely motionless, frozen, with a pale face, as if they had been glued to them. No one dared to speak or look at their neighbours. Some women were crying softly, more people were slightly shivering, either with fear or with anger. I smelled fear everywhere.
The members of the royal family were also sitting, just as when I had left them. Odin and Frigga seemed to be calm, they could keep the mask of tranquility as always, but Thor was about to explode. He pressed his lips together and his fingers grabbed the edge of the stone table so hard that it had cracked a little. I knew he would have jumped up and grabbed Mjölnir and killed - if his parents hadn't ordered him otherwise.
Loki was standing in front of their table. He looked calm and amused, with a naughty smile on his face as if this whole scene had entertained him well. He kept his arms near his hips, in a relaxed position, his long fingers rested on his thighs. I saw a bluish shade on his skin but it lasted only for a moment. He didn't move - he seemed to be waiting for something.
Three frost giants were standing in front of Loki. All of them were huge, blue-skinned, with a wrinkled ugly face and burning red eyes, showing sharp white teeth while grinning. Their naked body looked strong and rude. A couple of similar giants were surrounding the hall, armed with nothing but their tremendous muscular body.
I wondered how they could get to Asgard. Was it Loki's plan, did he show them the way? He still looked surprised, though a little amused.
- Loki! What the hell is this?! - demanded Thor angrily.
Loki shrugged and leaned his buttocks against the table in a fairly lazy manner. He was the model of patience and calmness - in a total contrast with his brother.
- I have no idea - he turned to the leaders of the giants - What do you want?
- I am Ymiri, the leader of the envoys from Jotunheim. Come and be our king. It is your destiny. - said the middle giant.
He seemed to be the strongest and the oldest one of the giants. There were five thin scars along his forehead and they made his face look more frightening.
Loki laughed. He didn't seem to be surprised or scared by seeing frost giants in Asgard or by their surprising request.
- Is it my destiny to rule that shitty cold place? No way.
The giants seemed hurt, their growing anger was felt all over the hall. Ymiri's face distorted a little, but he tried to stay civilized.
- It is rather disrespectful of you to talk like this. That is your birthplace, your home. We want you to come back with us.
We want you? Bad words to tell Loki, I thought. He despised orders and commands and such words were enough for him to disobey. Like this time.
Loki looked a little furious and annoyed as he straightened up, left the table and made a step towards Ymiri. His eyebrows formed a curious mark on his clever forehead.
- I think you are a little mistaken, my icy friends - he said softly, with a mischievous grin.
- Loki… - Frigga tried to warn him on a hardly audible voice, but we all knew that it was too late.
- No one will ever tell me what to do. Especially not some crazy snowmen - Loki added the last words with a little louder and crisper tone.
All the giants growled angrier for these further insults, while the Asgardians became more scared. Thor was squirming on his chair impatiently, I could hear him breathing heavily. Only Loki and the royal couple could preserve their cold blood.
- Should I understand that you don't want to come with us without resistance? - Ymiri asked narrowing his red eyes.
- Excuse me? What do you mean by without resistance? - Loki giggled as if he had been told a great joke.
Ymiri seemed to have a hard time to keep his patience.
- You must come with us and no one will get hurt.
Loki blew the air from his lungs noisily, looking bored and he shook his head a little as if he couldn't have understood the foolishness and stubbornness of the blue-skinned guests.
- My words sounded as a request but they weren't one. - Ymiri spoke slowly.
Loki turned his head a little left, his cheerful smile quickly became an icy grin. I couldn't help but admire his courage and bravery.
- As I said, no way. Asgard is the place I want to rule, not the asshole of old whining snowmen.
The leader of the giants stepped forward. His body remained relaxed but his deep voice promised a thunder of anger and demolition.
- You arrogant little piece of nothing. You will pay for this dearly.
Loki didn't seem impressed or scared at all. He simply laughed at these words, while Ymiri was preparing for the next step. He lifted his arm and everyone saw how his hand turned into a huge icy sword.
I had no moment to lose. I jumped in front of Loki, defending him with my body, so the icy sword ran deep into my stomach. The pain was unbearable and I felt my blood turning into ice, freezing me to death. I had to hurry because I didn't have much time left.
I heard cries and screams and I heard Frigga's voice but all these noises were muffled as I turned back and saw Loki. I smiled at him and he looked at me completely surprised, deeply shocked and astonished and he was unable to understand what I was doing there at all. For the first time, I could discover a little fear in his eyes, but that was what I couldn't believe that I saw it well. Loki never felt any fear.
Still watching his beautiful face, feeling his breath on my face, it all gave me the power to survive until it was needed.
- Take care, my beloved Prince, and take care of your tongue next time.
He tried to open his mouth, maybe to reply, but I couldn't hear anything anymore. I leaned back, watching him closely, with a tender smile, and while I was falling behind, my body turned into a huge temple of fire, hot flames were splashing all over, attacking the leader giants, grabbing them and turning them into mere puddles of water. Then when all of the giants were killed, I simply disappeared like smoke in the air. It was so easy and it gave me such a feeling of freedom and peace I had never felt before.
Loki was standing like a frozen statue, only his chest was moving as he was breathing heavily, and his glowing blue eyes were mesmerised, staring at the place I had stood. He couldn't believe his eyes.