2018.05.20. 11:25, zoejones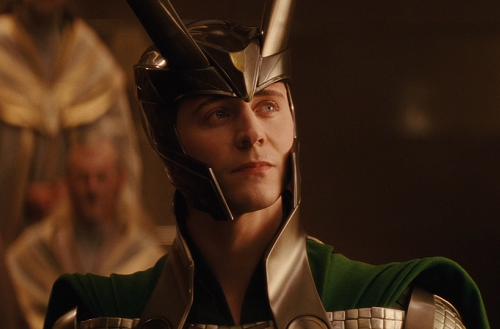 Loki hasn't visited the Bifrost for such a long time.
Every time he went there, he was doing some nasty mischief. A little fun, a little try, to gain, to win, to punish - he thought. Now he was here again, but this time - for the first time - asking for help. He was walking slowly, his eyes gazing somewhere in the far, where the snow-topped mountains were glimmering under the dark blue-silver-purple sky, filled with dark promises and memories. The rainbow bridge of Bifrost was also glimmering just as if millions of colourful stars had been broken and exploded into dust and someone had showered that magical dust all over the bridge.
Heimdall in his shining golden armour was standing at his usual guarding place, holding his sword tight, paying attention and watching every second. He stood motionless, like a statue - he had done that for hundreds of years without being sleepy or exhausted. Nothing and no one could have ever slipped his eyes.
He already saw Loki from afar and he watching him closely. He knew the God of Mischief and his gimmicks too well as Loki had outfoxed him a few times when he had hidden himself somehow (Heimdall had never known how he had done it) and he had played some nasty tricks on him and when he had allowed some enemies to enter Asgard. Actually no one could outfox Heimdall - only Loki. So Heimdall always tried to be extra careful when the God of Mischief was approaching him.
The way that this time Loki arrived face to face, completely visible, made Heimdall a little more suspicious and precautious. He could see the God of Miischief, but he still couldn't see his intentions.
- Hello, Heimdall. - Loki was greeting him with a little smile. He had to be nice because he wanted something from the mightiest guard of Asgard. He always had his naughty ways to get what he needed, but this time he had to be honest with Heimdall. He arrived with the clearest intentions and he needed his help badly.
- What are you up to now, Prince Loki?
Loki swallowed hard. It was very hard for him to ask. He felt as if he had had to beg for something and he hated begging - unless it was him who was begged to by someone else.
- I need your help.
Heimdall couldn't believe his ears and if it was not him, he would have been laughing hard, even dropping his sword. But it was very far from his nature to laugh, and the desperate expression in Loki's eyes made him confused and even more suspicious. Desperation was something he had never seen in the God of Mischief before.
- What for? You have never come to me for help.
- This time I need it. You must find someone for me.
Heimdall's face remained motionless and expressionless. Now everything became clear. He saw and heard everything (that is why he became the guard at Bifrost) and now all the tiny pieces of information he had collected during the last thirty days managed to form a whole picture.
- Now I see.
Loki looked at him closely. He wondered if Heimdall could look into his mind and read about his plans.
- What do you mean?
Heimdall was looking into Loki's eyes without blinking.
- You want to know if I can see the whereabouts of the girl.
Loki nodded, wondering how intelligent Heimdall was.
- The girl who sacrificed herself to save you. - the guard continued.
Loki's lifting eyebrows showed his growing impatience. He hated that he had to ask and he also hated the direction where this conversation was leading to.
- After you humiliated her in front of everyone. - finished Heimdall his long sentence, with a cruel voice.
- Enough! - shouted Loki angrily. - Damned enough! I don't want to be preached, I don't need a moral lesson, thank you.
- You are welcome, Prince Loki. - replied Heimdall without the tiniest sign of embarrassment.
Loki waited a minute till he regained his tranquility. He hated how easily he could lose his temper recently. It was something new for him and he didn't fancy this change at all.
- Can you help me? Can you see where Sjöfn is?
Heimdall stayed silent.
Loki had no idea if he simply didn't want to help him or he was just looking around everywhere in Asgard, looking for the wanted girl. He forced himself to stay patient and not to shout at the guard. He was watching him closely but he knew well that it didn't make any sense because the guard's face always remained completely empty and emotionless.
- I can't see her. - said Heimdall suddenly.
- Damn. - moaned Loki. If Heimdall couldn't see me, it meant that Frigga was wrong and I was dead, or that I was somewhere else outside Asgard, possibly hiding, so it would be impossible for everyone to find me. Loki felt the anger and the disappointment building up in his heart very quickly.
However, Heimdall continued.
- But I can see someone who must be related to her. A very old lady. Gray hair, dark eyes. Possibly her grandmother.
Loki's joy disappeared quickly and he was also confused. How come Heimdall couldn't see me still feeling my presence in someone else? He knew that he had to meet that old woman as she must have known something about me. A tiny piece of hope appeared inside him.
- Where is she exactly?
- Near a forest. There is a little brook nearby. With a bright white stone bridge over it. To the north. - Heimdall talked slowly, his eyes looking motionlessly into the darkness.
Loki's impatience grew.
- Does that damned place have no name?
- No, it doesn't. But you will find it. Just follow the brook upwards till you reach the forest with the golden bow.
- What golden bow?
- I am just telling you what I see. Don't ask too much. I don't have all the replies for your questions.
Loki sighed, watching Heimdall in despair. He knew that that was all the guard could tell him.
- Thank you - he said, after a long pause, then he left.
Heimdall said nothing at all. He didn't even wonder why it was so important for Loki to find me. He couldn't see Loki's intentions and that bothered him a little. Maybe I should talk to the King, he thought, but then he refused the idea. Maybe later.
Loki hurried back to the castle. He had no time to lose. He had to obtain a fast and strong horse and leave for the forest immediately. He had been waiting enough. A whole month. And he felt that he was not able to wait any longer.