2018.05.04. 21:45, zoejones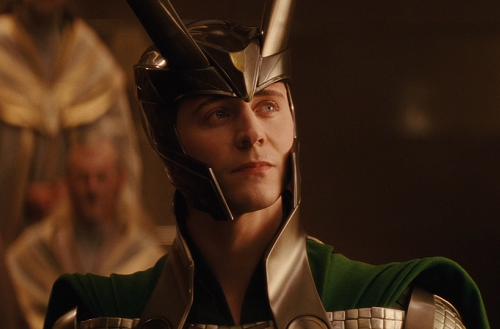 Loki was lying on the bench in his mother's garden, staring at the blood red roses intertwining above his head.
He was staring at the soft petals but he saw nothing. He was wearing black leather shirt and trousers, the sole of his boots were covered with thick layers of dried mud, due to the long night trips to the nearby mountains.
He spent his daytime lying in the garden and his nights walking and climbing every high places. He couldn't sleep no matter how tired he was. His eyes looked so heavy and dark, his face was very pale, his whole body radiated with misery and exhaustion.
He chose the garden because no one but Frigga entered that place so he could be completely alone and undisturbed, and because no one would ever imagine him spending time among flowers. As no one would ever suspect how sad and desperate he was.
Frigga was standing a few steps from him, watching him closely, with deep tenderness and concern. She was really worried about her son.
She saw that he hardly ate anything, he already lost a few pounds, he drank more wine than before, he disappeared for the whole day and never talked to anyone. Not even to her, his beloved mother, who taught him all his tricks and magic, who always listened to him talking about his dreams or simply complaining since his childhood. She knew exactly that he was mourning me even if he had never admitted it.
- Mother. - said Loki, without looking at her. As if he were too exhausted to move his head even a tiny bit.
- Loki, darling. - replied Frigga on a gentle voice and stepped closer to him. Her heart was bleeding to see him in such a broken state. - I didn't see you at the breakfast table this morning.
- I wasn't hungry. - replied he on a dead voice.
Frigga tried to stay calm and she chose her words carefully. She didn't want to make him feel provoked or act as if she had wanted to demand some kind of explanation.
- Actually I haven't seen you at the dining hall for three days. I was really missing you.
Suddenly Loki sat up and offered a place for her on the bench. The sudden movement made him feel dizzy and gave him a sharp pain in his head but he did his best to hid these feelings. Most of the times he hid any kinds of feelings in front of others - it was only his mother who could see his real self most of the times.
- Please, sit down, Mother.
Frigga accepted the offer, sat down close to her son and tenderly took his hands between her palms, capturing his eyes with hers. She didn't ask anything - she waited patiently for Loki to start talking. She had been watching him since the visit of Ymiri and his fellow giants, since the day I died. She saw enough and she knew that something was really wrong.
- Sjöfn saved me. - Loki said softly.
Sjöfn. That was me. Frigga gave me this name that meant "love". She told me she felt so much love inside me therefore that this one suited me much better than my original name that I had received from my parents.
Frigga caressed his hand slowly, while noticing the scars and bruises on the rough skin on his hand and on his wrist, but she didn't say a word. She knew it would have made no sense and she didn't even wonder how he had obtained those injuries.
- I was so rude to her but she was still ready to give her life for mine. I didn't even deserve her attention - not to mention her sacrifice.
Loki shook his head while biting his bottom lip and Frigga was surprised to see his eyes shining with tiny tears. She had never seen him so broken before.
- I wish I had spoken to Ymiri somehow else, not to provoke his anger… I mean I would never change my mind about being the king of that horrible place but if I had known that she would prepare to do that… she was so fast… faster than my tongue…
- I guess it was a good lesson for you to learn how to keep your little careless mouth next time. - Frigga was smiling sadly.
- Mother, it is not funny. - Loki's face remained sad and serious. He was so down that he didn't find her remark strange. - I owe so much to her, my debt towards her is too much.
- You really mourn her… - Frigga whispered with sorrow in her voice.
- I hate her so much! - screamed Loki suddenly, with his whole body becoming rigid and tight. His face looked even paler than before as if all the blood had rushed out under his skin. - I hate her so much that I could kill her… damn!
But it wasn't easy to frighten Frigga.
- You don't hate her.
- I do! I terribly do! - he kept on screaming, his back curved as if he had been in pain. - She has done this mess and she has made me owe her! I hate it! I hate her! I wish I could kill her with my own hands and then I would never feel, I could never feel that I will never be able to pay her back. - his voice became breathless and muffled by the end of the sentence.
Frigga allowed him to let his demolishing anger out but held his hands strongly so he couldn't have the chance to hurt himself.
- You really mourn her. - she repeated slowly later when she felt that her son could calm down a little.
Loki sighed deeply. He was still breathless.
- I do, Mother. I never regret anything I have done but this time… I do regret hurting her, being so rude and ungrateful. I wish I could apologise her. I wish I could turn back time and delete all my rudeness and ignorance towards her. I wish…