2018.05.13. 16:05, zoejones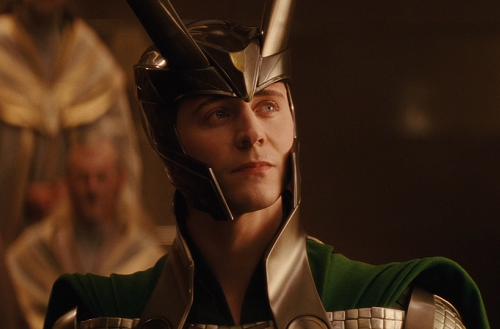 Frigga whispered to him softly, while touching his forehead with hers and she stroked along his hair slowly, like she did when he was just a little boy.
- Well, in this case you should go and look for her.
Loki picked up his head suddenly and looked at her wildly, with an open mouth, as if he were wondering whether his mother had gone crazy. He couldn't believe his ears and he couldn't even pronounce a sound for a few moments. Did Frigga really tell him those words? "You should go and find her." His eyes were full of surprise, questions and hope, his lips opened apart in stupor.
- Mother… what do you mean?
- You have always been so smart and bright, my son. What don't you understand now? - Frigga was smiling mischievously and that increased Loki's surprise - she seemed to be enjoying Loki's confusion.
- How could I look for her? She died for me! She is dead! - he almost shouted.
He was totally confused and hurt. What was happening and what had happened at all? What was his mother hiding away from him? They never had any secrets between them, but it seemed to have changed.
Frigga took a deep breath. She felt that the delirious anger started to build up in him again and she tried to stop that.
- Well, maybe you should know that you were not my only pupil.
Loki jumped up and his body was shivering lightly.
- Did you teach Sjöfn?
- Yes, I did. - Frigga nodded, watching him closely. - We met almost every day. She was my brightest pupil, so hard-working, so bright. She wanted to know everything at once, but she could be patient. Don't get mad, my darling, but she exceeded you in magic.
Loki made an impatient movement with his hand, showing that his mother seemed to misunderstand him.
- I don't mind if she is far much better than me, not at all. But why haven't you told this to me earlier? Why did you have to wait a month? A whole month! What was the sense of making me waiting while I was going crazy?
His voice was so sharp and deep from anger, and Frigga now could see how much he had really been suffering. She regretted now not having talked to Loki earlier though that time it seemed to be the best decision.
- I am so sorry but I was not completely sure about your feelings for her. Actually I didn't have the slightest idea that you feel so much for her.
Loki hung his head broken-hearted.
- Neither did I. - suddenly he looked up into Frigga's eyes, totally excited - Then tell me now, is she alive? Hasn't she sacrificed herself for me? Was it an illusion? Just like my games?
- She did sacrifice herself for you. And also for us. Don't ever doubt it. - Frigga warned him with a little smile - She didn't think or hesitate when she jumped in front of you to receive the sword and to save you.
A soft blush appeared on Loki's cheeks but it disappeared as soon as it arrived.
- What was that fireball? - his eyes showed clearly that he suddenly started to suspect the answer.
- Sjöfn was a shapeshifter, just like you. No wonder as both of you were my pupils.
Loki shook his head, as he were unable to comprehend what he had been told.
- But she was suffering! I saw it. Was that real? Or did she deceive my eyes? I don't understand anything, Mother.
- She was suffering. She didn't concentrate before she jumped in front of you, she didn't hesitate to defend and save you. That is why she could change into that demolishing fireball only later, when she was already dying. It is amazing how strong she was… - Frigga seemed to be talking to herself now - A shapeshifter always needs perfect concentration and a perfect handling of power, and under such a huge shock like dying most of them would be unable to transform.
Loki jumped at her comments.
- So she must be alive! If she was so strong, right? Do you know where she is? Has she sent you any messages? - he kept on bombing her with more questions.
Frigga shook her head and held his cheeks into her hands.
- I don't know anything for sure. I don't want to wake false hopes in you. But she does have magical power and I feel that she is out there somewhere. I want to believe it. If someone could find her, it is you.
- Where should I look for her? - whispered Loki to himself, completely lost between hope and despair.
He didn't dare to believe his mother but at the same time he was totally sure that she would have never allow him to hope for nothing.
Seeing the desperate expression of his face, Frigga felt little twinges of conscience. Maybe she shouldn't have told him about her suspicions of my being alive because she was not completely sure about that. And now she could clearly see that Loki was feeling something serious about me. Whether it was admiration or regret, it had been ruling his heart and his mind for many days.
What she didn't suspect that there was another thought that started to circle in the back of Loki's mind. He was looking through the bushes and the trees, towards the high mountains of Asgard, thinking.
So you made me suffer, you made me believe that you were dead while actually you are still alive… I have been suffering, I have been tortured by my own conscience - for nothing. Sjöfn, you are going to pay for these, I promise. And he was smirking for a long moment.